With the second wave of infections now in full force, news agencies from around the world are reporting that hand sanitiser prices are peaking in line with infection rates.
In New York city, three separate firms were taken to court for price gouging, whereby the prices of standard hand sanitiser products were drastically inflated to play on people's fears during the pandemic.
The three firms in question were named as Mobile Rush, EMC Group, and Northwest-Lux, each of whom sold their products through the online retailer Amazon.
As NBC news reports, "Northwest-Lux charged Amazon shoppers $79.99 to $129.99 for 2-liter bottles of Purell, which are typically priced between $20.87 to $35.00, the attorney general's office said. In another case, Mobile Rush charged consumers $19.99 to $29.99 for single, 8-ounce bottles of Germ-X hand sanitizer, which is higher than their standard price of $1 to $3."
Together, the companies had sold more than 1,000 units at, what the New York Attorney General's office described as, "… prices that grossly exceeded the price at which the same or similar products were readily obtainable."
The sellers must now reimburse their customer for the almost $23,000 which they overcharged, as well as paying the city more than $52,000 in penalties.
Amazon, for their part, have responded by removing hundreds of thousands of 'high-priced offers' and suspending thousands of sellers. Hand sanitiser, however, is not the only product targeted for price gouging, with hazmat suits, face masks and other coronavirus protections also subject to shocking price increases. In March, for example, CNBC found examples of "face masks being sold for as much as $195".
In total, New York City's Department of Consumer and Worker Protection (DCWP) said it had received more than 12,000 complaints of price gouging between March 5th and November 9th.
"Instead of ensuring individuals could protect themselves from the coronavirus, these businesses operated with dirty hands by charging exorbitant prices on hand sanitizer and other cleansing products," said Letitia James, the New York Attorney General. "My office will continue to clean up this unlawful practice by using all of the tools at our disposal to prevent price gouging during this pandemic."
However, the price spike for hand sanitiser is not a problem exclusive to New York. A November report by Business Insider finding that, "Hand sanitizer prices have jumped by a massive 53% in the US during the pandemic."
While the Financial Times reports that other goods have also witnessed price hikes, stating that, "The average price of bleach was up 21%, paper towels 19%, and both laundry detergent and washing-up liquid 10%." Worst of all were hand gels, where "Average in-store prices of hand sanitizer rose 53%."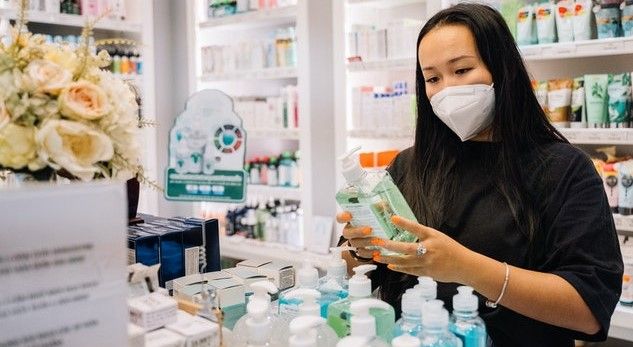 As the number of cases coronavirus cases steadily grows, so does public fear, changing shopping habits, and causing panic buying.
Recent data released at the end of October by retail data analysts at Inmar Intelligence found that, "57 percent of shoppers are considering replenishing their stockpile of goods originally created at the beginning of the COVID-19 pandemic." While more than a quarter of shoppers were concerned about shortages of basic goods, even items such as meat.
Consequently, some people are beginning to stockpile, with the most commonly hoarded products being toilet paper (67 percent) and hand sanitizer (57 percent).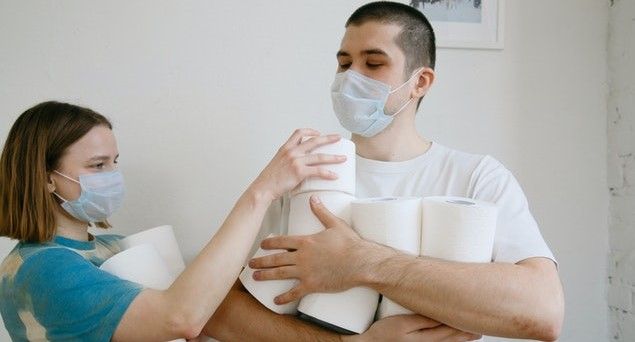 For now, much of the stockpiling being seen in the second wave of COVID seems reserved to America, with grocery prices and availability fairly stable across most of Europe. However, as the weeks of lockdown begin to turn into months, no one can be certain that desperate economics will not start to play a role in supermarkets and pharmacies. And as the colder weather sets in, keeping hands clean and pathogen free is not just a question of avoiding coronavirus, it also means avoiding the flu.
---
If you are not sure whether you are overpaying for your hand sanitiser products, or if you want to be certain that you are purchasing a quality product from a trusted supplier, then visit the AG PROTECT website.
AG PROTECT, who sponsor this website, is a renowned supplier of hand sanitisers, cleansing gels, and disinfecting sprays whose products meet EU standards at a fair price.
---
Photo credit: Polina Zimmerman from Pexels, 16061941 from Pixabay, Infinity Shutter from Pexels, Anna Tarazevich from Pexels, & Anna Tarazevich from Pexels